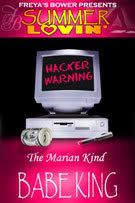 From Nancy Lindley-Gauthier at The Long and the Short of It
"...From powerful and unexpected characters to bizarre events, this story keeps your attention. And the discoveries along the way - like how chocolate bubble bath might disagree with your average computer circuitry - only add to the fun.
Clever descriptions offer a bit of a giggle in between fast action scenes (the love interest is compared to an array of fresh-from-the bakery delights) and the romance sizzles all the way through. The Marian Kind by Babe King is a quick read because it simply won't allow the reader to step away."
Read rest of Review
Read Excerpt!!!
Buy Me!!!