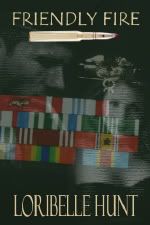 Hey y'all! I'm Loribelle Hunt and I write suspense, military, and paranormal erotic romance for the most part. I'm excited to announce that my Bites, Friendly Fire, are now available!
Homecoming
Just home from an overseas deployment, Brad has doubts about his wife's interest in continuing their marriage. Will a chance encounter with a bullet shell that gives glimpses of the man's life it took change his mind?
Twice In a Lifetime
Janine has loved two soldiers in her life, but she has kept the first a secret from her new husband. When a bullet shell with visions gives him a crash course in her past love life, will it strengthen or end their young marriage?
I also write for Cobblestone Press and you can find out all about me and my work on my
website
and
blog
. ;)